Mimaki JFX200-2513 EX
The latest addition to Mimaki's family of LED UV flatbed printers
The Mimaki JFX200-2513 EX is a successor to the original Mimaki JFX200-2513 and is a large format 8' x 4' flatbed UV inkjet printer that combines high-value-added printing and high productivity with ease of use.
With the launch of the JFX200-2513 EX, Mimaki has made substantial speed improvements, as well as adding some highly useful functionality.
The Mimaki JFX200-2513 EX prints two times as fast as the JFX200-2513 in White + Colour simultaneous printing. The newly added Draft mode (300x300HQ 4P Bi Normal) can deliver print speeds up to 35m2/h (376.7 ft2/h) in 4-color + White simultaneous printing. This is a 280% increase in speed.
The JFX200-2513 EX uses a combination of white, clear and process inks to print on a wide range of rigid substrates using LED UV curing technology. The 2.5m x 1.3m print area maximises the potential for printing to industry standard 8' x 4' boards. The machine has a head gap of 50mm and maximum media weight of 250kg, making it capable of printing to a wide variety of materials. There are several ink types available including LH-100 for rigid materials and LUS-120 and LUS-150 for materials requiring flexibility.
Usability has also been improved with the addition of a vacuum-controlling foot switch. Perfect for when the operator has no hands free and needs the media to be held stable on the print bed.
Additionally, the JFX200-2513 EX also includes Mimaki Core Technologies, Nozzle Check Unit (NCU) and Nozzle Recovery System (NRS), for uninterrupted printing with no loss to quality if print nozzles become clogged or unproductive.
Bed size: 2,500 x 1,300 mm (98.4x 51.2″)
High value-added print with the 2.5D Texture Maker
A newly developed function, "2.5D Texture Print" in Mimaki's RIP, RasterLink6Plus allows you to easily create multi-layered gradation data.
"2.5D Texture Print" allows multiple layers of ink to be printed to add a three-dimensional effect to the print – adding creative, textured finishes that combine colour and smooth, raised surfaces. For example woodgrain to enhance interior décor print, letters on signage and ink texture for oil-paintings.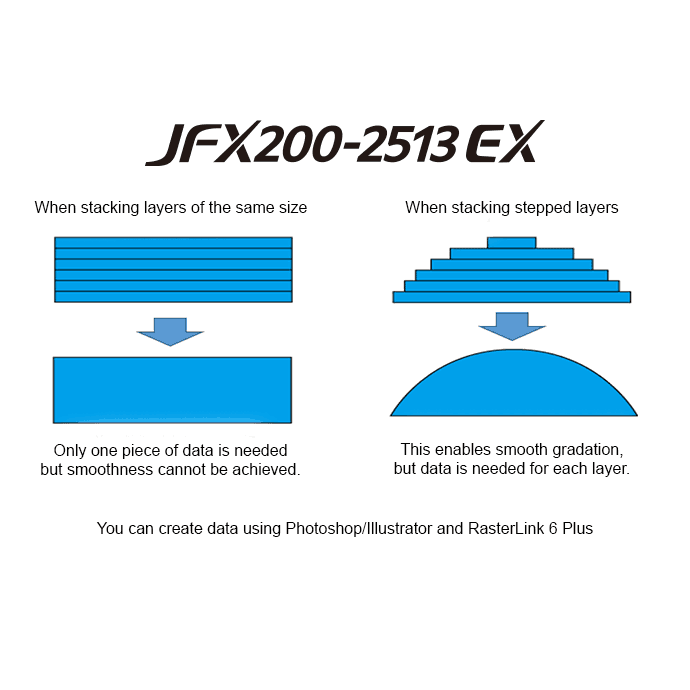 Mimaki JFX200-2513 EX delivers:
Max print resolution of 1200 x 1200dpi
Maximum print speed of 35m/2 per hour
Foot pedal for vacuum bed for increased work efficiency
Several ink configurations available including CMYK, White, Clear and Primer
Mimaki print technology including MAPS4 and variable dot for exceptional print quality
Uninterrupted printing thanks to Mimaki's MCT, NCU and NRS technologies
Supplied with easy to use RIP software Rasterlink 6 Plus
Typical Printed Materials on the Mimaki JFX200-2513 EX
Aluminium
Board
Cardboard
Corrugated Plastic
Foam Board
Glass
Wood
Applications using the Mimaki JFX200-2513 EX
Signage
Display
Industrial Print
Building hoardings
Exhibition Graphics
POS Display
Packaging